Advertising your junk removal services may not be enough if it is within your nearby areas only, mainly if you're covering a whole county. You may earn income from this business if you provide services. Therefore, having a stable client base is essential to keep your business profitable.
An excellent way to attract more clients is online advertising and implementing SEO. It may seem like an additional task, SEO can drive more potential clients to your business. You can make your junk removal business rank high in search engines once a potential client looks for these types of services.
The junk removal industry is already vast, and you want to ensure that clients will notice your business first rather than your competitors.
Understanding The Junk Removal Industry
Generating waste is an unavoidable problem, whether in households or businesses. What makes it worse is that it continues to increase.
Traditionally, people rely on community garbage pick-up and do not contribute to improving the environment. Many cities have established waste management regulations because people are starting to patronize eco-friendly processes. Sometimes, households and businesses may need help to comply, especially if it involves bulky and heavy items.
The junk removal industry plays a huge role in reducing the amount of waste that goes to landfills. This industry provides a sustainable process for removing unwanted items from properties. Because garbage is present anywhere, it has become one of the thriving businesses for providing services.
With these services, anyone can responsibly eliminate appliances, furniture, or yard waste. These businesses are only a phone call or website visit away.
Since it is one of the most sought-after businesses in a community, people who like to start may find it challenging because of the competition. It also requires continuous expenditures for truck maintenance and other equipment. There should be an established customer base for steady earnings to compensate for these expenses.
Keyword Research and Targeting
SEO is one of the best tools for generating leads for any business. You must select the right keywords to integrate into your content to maintain online visibility. Aside from referrals and other advertising methods, SEO can bring new clients, even if they haven't heard of your business before.
To know which keywords to use, put yourself in your client's shoes. What would you type in Google if you are looking for junk removal services? Do you need appliance removal in your area? Do you need a cleanout service because a hoarder lived in your rental space?
You can start by collecting keywords that are related to your junk removal. Keyword research tools can help you refine your list by showing its search volume. You can also use these tools for keyword suggestions in case you miss something with a higher search volume. However, ensure you don't overuse keywords since your content will not look naturally written.
If your services cover a specific area, include the area as well. For example, if you offer services in Orange County, use the keywords "junk removal in Orange County," "junk hauler in Orange County," or "appliance removal in Orange County." Use your primary keyword in your headings and the first 100 words of your content.
On-Page Optimization Techniques
Optimize Meta Description and URL
Your meta description is a short snippet of your junk removal content. Make it as engaging as possible since it appears on the search engine results page (SERP). The search engine will also display your primary keyword in the meta description when a potential client searches for it.
Keep your meta description short but complete with information. Tell the searcher what your content is all about, and write in a conversational tone.
Your URL structure will also affect your website's performance in search engines. Include your primary keyword and the name of the area that your services cover. It should explain what the destination page is about. It can add a user-friendly approach to your website, which many searchers look for.
Format Headings and Content
If you create a junk removal blog, use the header tags properly. H1 should be the title of your content, followed by sub-topics in H2, H3, or H4. The header tags contribute to the user-friendly approach of your website. Like chapters of a book, searchers can quickly take a glance at what your content has.
As for your content, ensure that what you will publish is related to your business. You can create how-to guides or cover moving out, decluttering, or sustainable disposal topics. Ensure that your content has a proper hierarchy of sub-topics.
Mare it easier to read by breaking up blocks of paragraphs. Use a single idea in each section or include bulleted lists to present information concisely.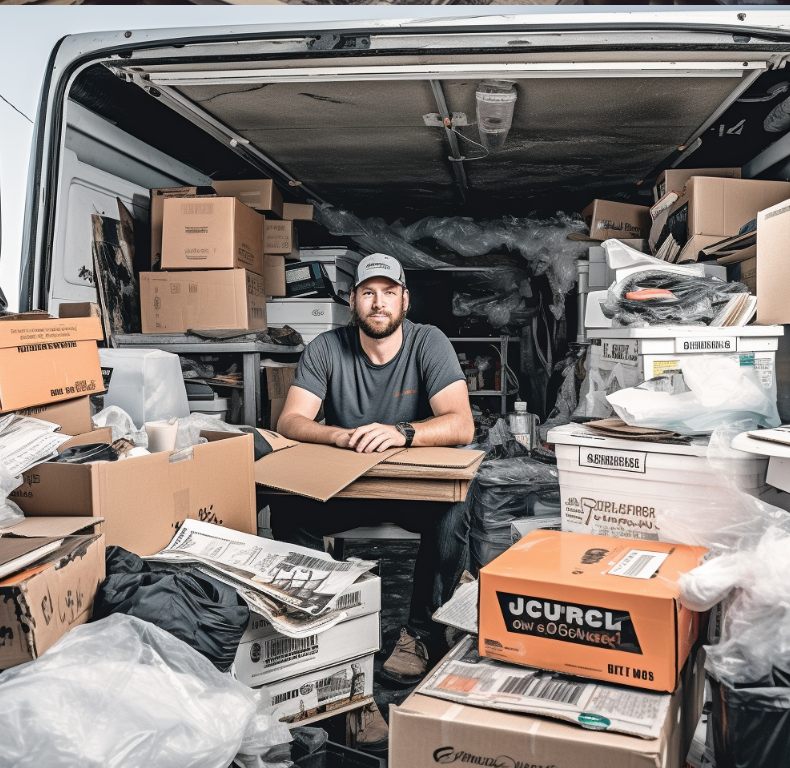 Consider Page-Loading Speed and Optimize Images
Your page speed improves the user-friendly approach of your website. A website that loads its contents slowly could be more appealing to readers. They may leave your website before the entire page loads.
To make your website run smoothly:
Optimize your images to reduce their size.
Add captions and use file names that include variations of your keywords.
Use the descriptive alt text feature with keyword variations, so they will also appear in Google's image search.
Off-Page SEO Strategies
High-Quality Backlinking
Unlike on-page SEO, where the website traffic is your responsibility, off-page SEO requires the help of other websites. Backlinks are links from other websites that redirect back to your website. If you work with reputable websites, your junk removal company will look more credible and relevant.
You can also join online forums and discussion boards related to junk removal and put links going to your website. It is a great way to engage with potential clients and increase organic traffic.
Guest Posting
Your quality content may also be used for guest posting to websites related to junk removal. You can attract new potential clients even if they don't visit your website. It allows you to reach more people, even those who do not need junk removal services yet.
Some related websites you can try guest posting are those about home improvement and waste management. However, ensure that you follow their guidelines on guest posting and link your website in relevant anchor text.
Take Advantage of Social Media
Social media is the easiest way to promote your services, especially now that people are glued to them most of the time. It is also the easiest way to share your website content and make it more engaging.
You can also use these platforms to share before and after photos of your successful projects. Using infographics is also helpful in attracting potential customers. Using these platforms, you can quickly respond to their comments, messages, and inquiries.
Local SEO for Junk Removal
Verify your business in different business listings such as Google My Business and Yelp. Ensure your business details are updated, especially contact numbers, email addresses, and business hours.
Complete your profile and include a brief description of your business using your target keywords. You may also add photos and videos of your services to give your potential clients an idea of how the work goes.
Additionally, encourage your previous clients to leave reviews and share their experiences with your services. Their testimonials attract potential clients and influence their decision to hire your services. Be responsive to these reviews, whether they are positive or negative. Doing this shows that you value customer feedback to improve your business.
Measuring Success and Analytics
Measure your SEO results by using tools like Google Analytics. These tools can help you identify if your SEO efforts are practical. You can track your website's traffic, including how many visited your website, which blogs generate the most engagement, and bounce rates. If you still need to, you can revisit your low-ranking content to improve them.
You may also use these tools to analyze other websites of junk removal companies. You can review their marketing strategies and look back on yours to benchmark your business and identify where you can excel.
Case Studies and Success Stories
1-800-GOT-JUNK? is a well-known junk removal company, which you can always see on top of search engines. Its success is because of implementing good SEO strategies. They create keyword-rich content that helps them drive organic traffic to their website. Their SEO efforts helped them rank in local search results and expand their presence in multiple areas.
Junk King is also a junk removal company that established its online presence through SEO. Its informative content, location-specific landing pages, and quality backlinks helped them rank prominently in local searches. Due to this, the company had increased customer inquiries, which they converted into loyal clients.