The waste management industry is not a classy business but one of the most sought-after businesses. Dumpster rentals play an important role in waste management. People who work in this industry are experts, know how to handle all types of waste and understand the environmental impact of each.
With the increasing number of generated waste daily, a dumpster rental can be a stable business because of its market demand. People turn to dumpster rentals for many reasons, and both residential and commercial properties can take this service.
The upfront costs may be higher than other types of businesses, but you can maximize your return on investment if you market it correctly.
Understanding The Dumpster Rental Business
Customers often use dumpster rentals for construction, demolition, or large-scale clean-up projects. The primary role of dumpster rentals is to provide dumpsters in different sizes, depending on the volume of trash for disposal. Customers can rent them in different rental periods, depending on their needs.
The market demand for dumpster rentals in the USA is rapidly increasing. Now that many residents and business owners have become more conscious of the environment, they have improved their waste management practices by hiring dumpster rentals. The government regulations in waste management also increased the market demand for dumpster rentals.
The initial costs for a dumpster rental business will depend on how big you want your business to be, your target market, and the area you wish to cover. Your initial operational costs include dumpsters, a roll-off truck, licenses, permits, marketing, and software. Once you start operating, you must also pay for a few employees, including training, uniform, and labor costs.
The rental rates you will provide determine your profitability. You can identify competitive yet profitable rates by creating a good pricing strategy. You must consider your market demand, operational costs, and desired profit margin to set your rental rates. Your competitor's rates are also a good reference for selecting an acceptable rate for your potential clients.
The Profit Landscape in The Dumpster Rental Business
Starting and managing a dumpster rental business requires an understanding of the financial aspects of the company. A comprehensive business plan will be your primary resource for effectively managing your financial foundation. It will provide estimates of operational costs, revenue projections, and considerations for determining your profit margin.
Optimizing Revenue
Optimizing your revenue streams is crucial for the long-term success of your dumpster rental business. Effective strategies such as targeted marketing, promotions, competitive pricing, and diverse dumpster offerings can help you earn higher revenue to cover your costs. Doing this will help you stay competitive in the waste management industry and keep an upward trajectory of your profits.
Desired Profit Margin
Your desired profit margin can help you make better pricing decisions. It serves as your benchmark in evaluating the profitability of your services and gauging the financial health of your dumpster rental business.
A clear profit margin can help you control your expenses effectively by evaluating your expenses and identifying areas where you can reduce costs, leading to achieving your financial goals.
Management of Overhead Costs
Overhead costs are the daily expenses incurred for operating your dumpster rental business. It includes administrative fees, employee salaries, marketing, and advertising costs. Analyzing these costs can help you evaluate if you are spending more than what you are earning.
If this is the case, you should seek cost-saving opportunities while maintaining the quality of your service. If you manage your overhead costs efficiently, you can expect financial stability and keep your business profitable.
Key Strategies to Maximize Profit
Earning the right profit will sustain your business. Additionally, this will be your key to growing your business and eventually expanding to other areas. These strategies will help you maximize your profit earnings while providing exceptional client service.
Competitive Pricing
Competitive pricing is the strategy that ensures the balance between setting lower prices than your competitors and ensuring that your business remains profitable. With many dumpster rental services around, potential customers get quotations from different companies and choose the lowest one that provides a better service.
GET IN TOUCH
Schedule an Audit
Operation Efficiency
Keeping our operations efficient ensures you spend the right resources and incorporate cost-efficient strategies. You can do this by increasing the productivity of your people, managing your inventory, and implementing changes for better efficiency.
Technology integration can automate some of your processes, make your scheduling efficient, and better employee assignment. Improved operational efficiency will save you money, leading to maximized financial performance and return on investment.
Investing in Marketing and Advertising
Successful marketing and advertising are your keys to getting clients. To keep your client pool growing, you need to find them. Marketing and advertising will help your business reach your target client while convincing them you offer the best services for their waste management needs.
There are many forms of marketing and advertising that you can utilize. It includes local advertisements, print ads, social media management, and content marketing. Doing this will reach your target market and potential business partners that may require your services to help their business.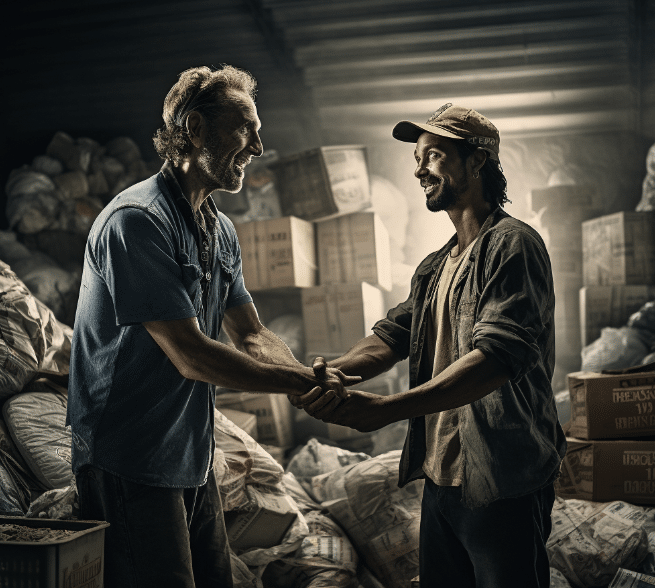 Customer Satisfaction
Satisfied customers will serve as your free marketing strategy. They can recommend your services to their friends and families. Additionally, receiving positive customer reviews also can attract new clients. Potential clients usually look at the reviews and testimonials of those who have availed of dumpster rentals before they buy your service.
Regulations and Compliance in Dumpster Rental Business
One of the main objectives of dumpster rental is to reduce the environmental impact of trash. Local governments don't allow the placing of dumpsters anywhere. If you need to place it in a public space, you must secure a permit first. You can check how your competitors handle this situation since some businesses let their clients handle the permit application.
Some cities also require environmental permits since your business handles waste management. These permits ensure your disposal practices are safe for your workers and the environment. You may check your local government's office to ensure your business complies with the required permits.
Securing permits helps your business avoid paying violations, which can be an additional and unexpected expense that may affect your profit. Additionally, clients prefer businesses compliant with local regulations since it reflects responsibility.
The Role of Technology in Enhancing Profitability
Bringing your business online can streamline its processes. Clients can look at the availability of your rental services, book a rental period, and make reservations on your website. This technological advancement reduces manual paperwork, reducing the cost of your office supplies.
Aside from setting up an online booking and reservation system, fleet management can also help reduce lead times, making your processes productive. This system automates dispatching, reduces fuel costs, and optimizes routing and logistics.
Technology integration, like mobile applications and electronic payment systems, can provide convenience to your clients. Mobile applications enhance customer experience and promote repeat business, eventually increasing profits.
On the other hand, electronic payment systems reduce delays in customer payment collection. This system automatically sends invoices and reminds customers of their payments' due dates, accelerating revenue collection.
Case Studies
One of the best examples of a successful dumpster rental business is Waste Management, Inc. The company only started as a trash collection service and now operates as a dumpster rental, recycling, disposal, and waste collection service. Their efficient operations and customer retention strategies made their business successful. The company also took advantage of technology integration, where clients can book services and pay for the services quickly.
Budget Dumpster is another example of a dumpster rental business that maximized its profits with strategies. The company uses a user-friendly website where clients can check the availability of dumpsters in their area. They offer a wide selection of dumpster sizes to cater to customers with different needs. Additionally, their transparent and competitive pricing attracts clients, contributing to maximizing their profits.
Future Outlook and Conclusion
You must consider several things to make money in the dumpster rental business. Each element mentioned in this article contributes to the success of your dumpster rental venture. You should regularly monitor your pricing strategies, handling costs, and marketing and advertising efforts to ensure your business meets your financial goals.
Frequently Asked Questions
How important is customer satisfaction in maximizing profits?
Customers bring revenue to your business. If you provide timely dumpster delivery and pickup, they will like your service and most likely recommend your company. Because of this, you can foster customer loyalty and increase your profitability.
How can I reduce the overhead costs of a dumpster rental business?
Analyze which expenses you can cut your costs. It may include reducing office expenses, implementing energy-saving strategies, or optimizing fuel use.
Can additional revenue streams boost my business' profitability?
Yes. You can provide additional services that are in line with dumpster rental. You can provide junk removal or recycling services, which can be another source of revenue.