Dumping waste is one of the challenges in commercial or residential properties, especially when decluttering or finishing construction and demolition. Waste management can be a daunting task in this medium to large-scale projects because of the amount of waste generated. Not only do you need to sort out the garbage, but these should also be delivered to the proper facilities.
If this is one of your dilemmas, hiring a dumpster rental service is best. One of the most significant benefits of renting a dumpster is efficient waste management. An expert dumpster rental company follows compliant and safe waste management and disposal by following recycling practices.
Finding the nearest one in your area can provide convenient, cost-effective service compared to doing the task alone. With a dumpster rental service near you, you can ensure that they know your city's rules and regulations regarding waste management and disposal.
Understanding Different Dumpster Rental Options
The first thing you must consider when renting a dumpster is how much waste you have generated and what type of waste they are. Are they only loose items but in massive amounts? Or are they bulky demolition debris?
Knowing what you need to be removed from your property can help you decide which type and size of dumpster you need to rent. Here are the most common options for a dumpster rental service and where to use them.
Roll-Off Dumpster
You may use a roll-off dumpster for almost any type of waste. Different sizes are available, whether it is concrete, construction debris, or loos household waste. One of the advantages of a roll-off dumpster is its open lid and easy-to-open side walls.
Open lids allow you to toss your trash easily, while the swinging sides are appropriate for loading heavy and bulky waste. This option is good if you recently have construction or demolition projects, cleanouts, or disposal of appliances and furniture.
This dumpster has a wide range of sizes, depending on how much waste must be collected from your property. A 10-yard dumpster may hold waste up to 4 pickup loads. Other dimensions may exceed 40 yards which can hold up to 16 pick-up loads.
Front-Load Dumpster
Front-loading dumpsters are movable waste bins that can store filled garbage bags. Unlike roll-off dumpsters, these are smaller receptacles covered with lids to avoid pest infestation. These are often used for commercial waste management, residential buildings, schools, and offices. Its contents are regularly collected to prevent piling up garbage.
Its sizes may range from 2-yard up to 8-yard containers. A 2-yard dumpster may store up to 14 garbage bags, ideal for small businesses and commercial properties. The 8-yard container is the largest and may store up to 55 garbage bags. The largest size is appropriate for high-traffic establishments like retail centers and shopping malls.
When choosing the right size of the front-load dumpster, you should consider the collection frequency. These are available for long-term rentals, which include garbage collection. These are collected by a specialized garbage truck equipped with front-loading arms.
Residential Dumpster
Compared to roll-off and front-load dumpsters, residential dumpsters are smaller and available for sharing with neighbors. These are designed for storing household waste and may not be appropriate for disposing of yard waste or bulky items like appliances and furniture. Only garbage bags are allowed for storage in residential dumpsters.
These come in different sizes, from regular garbage bins up to 3 yards. 95-gallon garbage bins are suitable for single homes, while up to three households can use dumpsters of up to 3 yards.
Residential dumpsters must be cleared out by a dumpster rental company, usually weekly or bi-weekly. This is to prevent the piling up of garbage bags and pest infestations. However, residents are required to sort out their trash before placing them in the residential dumpster.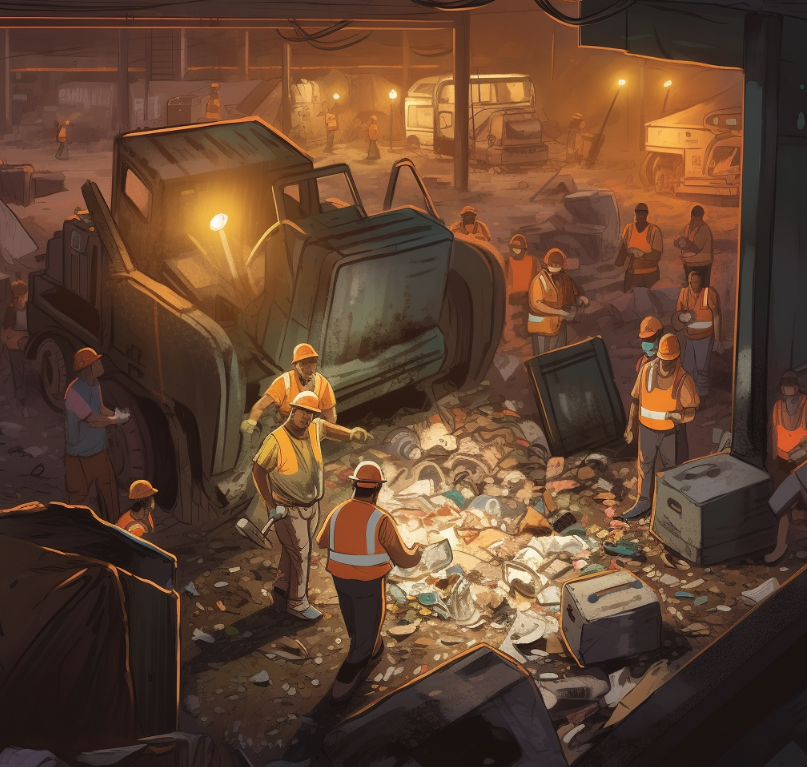 Researching Local Dumpster Rental Companies
If you are looking for a dumpster rental company, search them online or look for local listings provided by your community. Other resources are Yelp and Google My Business. If you live in a gated community, you may look for announcements from your homeowners association.
How to Find Dumpster Rental Companies
Finding dumpster rental companies is easy, especially with internet availability. Most local companies own a website. You may also find them on local listings provided by your community or homeowners association. Recommendations are also a good source, especially if your friends, families, or neighbors have already experienced a company's service.
They can easily be contacted via inquiry forms or phone. Dumpster companies located near your property may also provide free assessments to give you advice on which type and size you may need for your waste.
Factors to Consider
With many dumpster rental companies available, it can take time to choose one. Most offer the same services and competitive prices, making it harder to decide. However, they don't provide the same professionalism and efficiency of services and perks to a long-time renter.
You need to know the services they offer to ensure your rental duration will go smoothly. Check the frequency of pick-up, the availability of different sizes and types, and their disposal methods.
You should also verify the licensing and insurance they have. A business license is required to operate the dumpster rental company legally. Some municipalities issue environmental permits to ensure they follow eco-friendly waste management practices. On the other hand, insurance coverage protects you from any potential damages or liabilities during your rental period.
You should also take advantage of reading customer reviews. Client testimonials can help you evaluate if the company is reliable, adheres to your agreed schedule, or is professional enough to provide the needed services.
Get your FREE website Audit!
Comparing Services and Pricing
After completing your list of potential dumpster rental companies, you may request a quotation to check what is included in their pricing. Many factors affect the rental costs, such as the dumpster's type and size, location, and rental length.
Some companies offer discounts for more extended rental periods. But some companies add charges for special requests like a weekend or holiday pick-up or additional rental days. A detailed quotation that provides the breakdown of services will help you decide which company offers a cost-effective dumpster rental service.
You also need to compare the services offered by the companies that you have listed. Most offer the same services, so you need to look for differences such as the availability of the type and size you need, waste management solutions, and minimum rental periods.
Assessing Customer Satisfaction
Client reviews and testimonials can quickly tell you about a company's professionalism and efficiency. These are real experiences of their previous clients that you can read on to help you know what to expect from their services. Reviewing reviews and testimonials lets you know how they deal with customer complaints or whether they address them.
Customer satisfaction will help you decide on choosing a reputable company. If you are considering a long-term rental, look for a company with positive reviews. Doing this will help you avoid delayed pick-ups, which may affect your scheduled tasks. Remember that you are hiring a dumpster rental company for convenience and to save time to do more important activities.
Making an Informed Decision
Deciding who to hire can be confusing, especially if you have several companies listed. However, considering your budget, needs, and requirements can help refine your searches.
Choose a dumpster rental company based on how long you need to rent the dumpster and the volume of your garbage. Additionally, research if the company you are eyeing follows safe waste management practices to avoid legal issues with your municipality.
Working with a reliable, reputable company can establish trust that can help you be more confident working with them long-term. It reduces the likelihood of experiencing unforeseen issues, unnecessary costs, and liabilities.
You should also understand the terms and conditions associated with the dumpster rental. Some companies may have weight limits or not allow specific types of trash in the dumpster. These contracts sometimes include conditions when it comes to damages.
Reading through it is essential since some contracts state that they are not liable, which means unforeseen circumstances like these will cost you more. Damages should be covered by their insurance, whether damage on their dumpsters or onur property during delivery or pick-up.
Conclusion
Understanding this guide helps you to effectively decide on hiring a reputable company that aligns with your budget and needs. Many dumpster rental companies are available, but they differ in providing efficiency and professionalism. With a reputable and trustworthy company, you are most likely to rent for extended periods or be more confident in availing of their other services.
Frequently Asked Questions
Are there any items that should not be thrown into the dumpster?
Yes. Hazardous materials like chemicals, e-waste, oil, and light bulbs are not allowed in the dumpster. Recyclable materials should also be separated since it has different disposal method.
What are the charges I should check in the quotation?
Aside from additional charges, evaluate if the distance charges are reasonable. Some companies also add landfill fees, which facilities charge when they dispose of your waste.
Do I need a permit if I rent a dumpster?
Permits are required to place your rented dumpster in a public space, usually for large-sized dumpsters. However, permits are not required by the local government if it is just on your driveway or within your property.