Online advertising is the easiest and most effective way of marketing your business. You cannot avoid the high competition with many dumpster companies in a single area. You can create strategies to make your company appear first in search engine results.
It is where local SEO does its job. This strategy can help your dumpster company reach potential customers and generate more leads. Optimizing your website for local searches can increase your online presence, leading to more website traffic and customers. Customers will find your offered services through your online presence.
Understanding Local SEO and Its Relevance to Dumpster Companies
Generally, SEO is optimizing your website to increase traffic and brand awareness by creating content and using keywords. Local SEO is similar to general SEO but more focused on a particular area. Dumpster companies usually cover a specific location, which makes local SEO more applicable to these businesses.
Businesses with optimized websites within an area come first in the search results when people search for dumpster services. Even without including the "near me" keyword or the name of a place, Google uses a local search algorithm to provide the most relevant websites.
People rely on Google Maps to look for businesses, including dumpster companies. When you use content with commonly used keywords for searching, your website will likely appear higher in search rankings.
Google My Business for Dumpster Companies
Google My Business is an effective tool for SEO, which provides details about your dumpster company. It lets you display your services, contact details, location, and operating hours. Your business profile and geolocation serve as a referrer that helps potential customers find a company that provides their needs in their area.
Aside from business details, Google My Business can also make your company credible. It displays your company's star rating and reviews from your clients. It is an excellent marketing tool that is free and easy to use. It also makes your company more available to people in your area. Giving your potential customers quick information about your company saves them time, which can be a good factor, especially if you have a lot of competitors in your area.
Like website content, you should also optimize your Google My Business profile. Include as many details as possible using your target keywords, update your details regularly, and discuss your selling points differently from your competitors.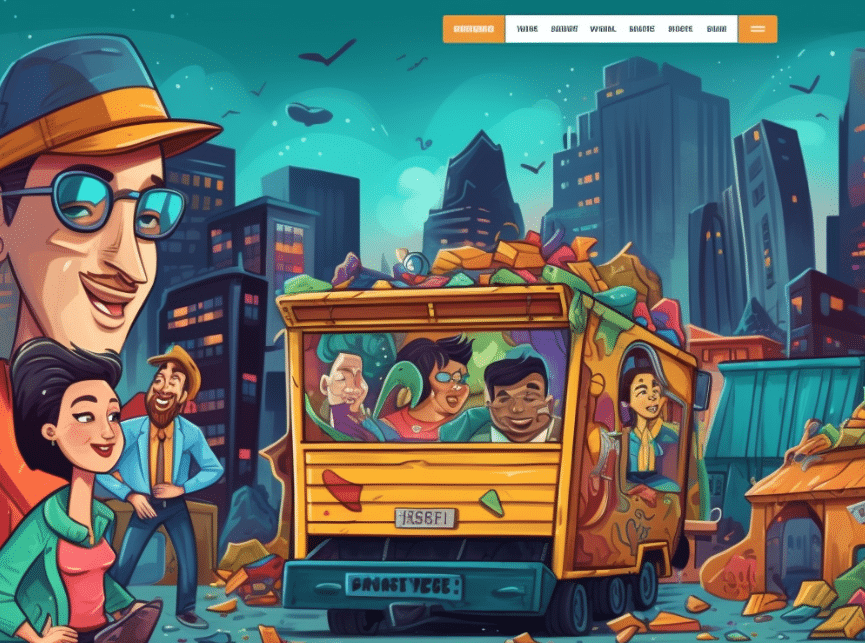 The Role of Keywords in Local SEO
Targeting local keywords that have high-volume searches is your key to a successful SEO strategy. In local SEO, the keywords contain location-specific phrases relevant to your business–this is the most crucial aspect of local SEO.
Conducting keyword research with general terms gives your dumpster company online attention. Here are some examples of local keywords that you can use for your dumpster company:
Dumpster rental near me
Dumpster services in [location]
Roll-off dumpster rental in [location]
Waste management services in [location]
Residential dumpster rental near [location]
You can use different tools in your keyword research. These tools have a keyword database, which also displays information on search volume. Though local keywords have low search volumes, these are the most common keywords potential customers use in searching.
Building an Online Presence Through Citations and Reviews
Businesses with 5-star ratings come first when searched in Google Maps. Reviews and citations affect algorithms and improve your local online visibility. Getting citations on websites of local communities can increase your chances of getting found by potential clients.
Citations refer to the online mentions that include your business details. It may come from listings, social media platforms, or blogs. Yelp is the most common site for citations of small businesses. Many people choose companies listed on Yelp for services, products, or establishments. Listing your business on this website makes it credible and reliable.
As for reviews, it increases the chance that people will share your business on different social media platforms. You may also consider reviews free advertising since positive reviews mostly lead to recommendations. People may think you quickly act on customer concerns when you respond to these reviews.
Geographic Locations and Their Impact on Local SEO
Pinning your business on its location makes it easily searched by clients nearby. Geolocations are as important as general keywords since most customers also type the location when searching for dumpster companies. Additionally, putting your business address in the footer of your website helps search engines suggest your business to people.
Geotagging is more effective when you incorporate them into images. Though some say that Google does not recognize geotagging, it may be effective in ranking in other search engines like Yahoo and Bing.
Quick and no strings attached!
Mobile Optimization: An Essential for Local SEO
People rely more on mobile phones since they have them anywhere they go. The majority of online traffic also comes from mobile phones. Mobile optimization improves user experience, keeping potential clients exploring your website. On the other hand, a website not optimized for mobile phones can be hard to navigate, leading to high bounce rates.
Mobile optimization is not only about making your website viewable on mobile phones. When you optimize your dumpster company's website for mobile phones, you completely change its interface from how it looks on a desktop.
The page loading speed is one factor that keeps a potential client looking at your website. Uploading images contributes to the loading speed. That's why you must choose images with smaller file sizes.
Link-Building Strategies for Dumpster Companies
Link building refers to getting backlinks with the help of other business websites. The goal of this process is brand awareness, even without visiting your website initially.
However, you should only create backlinks related to your dumpster company from websites. For example, write a guest post for a waste management or home improvement website with a link to your company's website. You can try different strategies, such as:
Claiming your business on an authoritative website
Guest blogging
Creating blogs that focus on the area that you cover
Internal linking
Joining local community events
These are just a few strategies you can try. As long as you work with an authoritative website for your backlinks, you increase your chances of ranking higher on SERP, which may generate new leads.
Prioritizing User Experience (UX) for Better Local SEO
User experience is critical in engagement metrics. An easy-to-navigate website creates audience retention and boosts online presence. Website audiences usually spend more time on a website if the pages run fast. According to Google experts, websites that load pages for more than three seconds most likely receive high bounce rates.
Aside from loading speed, how your website looks will also affect the user experience. You should know how to streamline your menu without making it complicated to navigate. If your dumpster company offers different sizes and types of dumpsters for rent, consider adding different menu headings for each type.
Case Study: Successful Implementation of Local SEO
A dumpster company called "Detroit Junk Busters" is a local business in Detroit that provides services to nearby areas. Since they serve many locations, utilizing local SEO strategies is effective in ranking higher in SERPs.
Their website is easy to use, the menu is easy to navigate, and their blogs are relevant to the areas they are servicing. Additionally, their business profile includes all the company details, services, and customer reviews. Their listing on Yelp makes them more visible to potential clients in surrounding areas.
Conclusion
With the high competition among dumpster companies, utilizing local SEO strategies can make your business the first choice of potential clients. As long as you keep your website mobile-optimized, easy to navigate, and updated with content, you can expect increased website traffic, which can be the key to a quick return on investment.
Frequently Asked Questions
Is local SEO different from regular SEO?
Yes. Local SEO targets potential clients in a particular area because of its location-specific keywords. On the other hand, regular SEO attracts audiences from different locations.
What should I consider to make the user interface engaging?
The visual appeal is what makes a website engaging. You may include photos of the dumpsters that are up for rental, other services, previous projects, and your company's location. Consider using colors related to your logo, and make it accessible even to people with disabilities.
Where can I find websites for backlinking opportunities for my dumpster company?
You may use business directories that are relevant to dumpsters. Other options for backlinking opportunities are local listings, local partnerships with other businesses, and content outreach.