If you run a business that offers junk removal and house cleaning services, you've come to the right spot. Your company's sales can climb up to new heights with a strong internet presence. Due to their high effectiveness for your company website, we have carefully chosen the finest junk removal website themes.
This selection of Junk Removal WordPress website Themes has exceptional capabilities that bring out the best in your website and support you in achieving your ultimate business objectives. They have high levels of functionality, elegant designs with numerous customization options, and outstanding capabilities.
Regardless of whether you're new to website making or just looking for a user-friendly theme, this collection of WordPress website Themes for Everyone will undoubtedly give you a wide range of choices and alternatives. Many specialized WordPress templates have been created by the community. For users who are new to the realm of website themes, these themes come with a variety of features and functionality. Simply put, premium themes offer more functionality, help, and features than free themes. Premium themes come with recurring software updates and a help system. The primary benefit of selecting premium themes is the technical support they provide. So let's have a quick look at some of the beautiful website themes that you can use for your junk removal business.
Themes For Junk Removal Business
Speaking of themes, earlier we learned that there are premium and free themes. Let's find out which works best for your business.
Here we have compiled some free and paid themes for you to pick from here and make strong of your online presence.
Wostin Themes
First, here we have the "WOSTIN Theme" For websites that handle junk collection and disposal, the Wostin theme is ideal for them. It can be applied to any website for a waste management or recycling company as well as websites for refuse collection and disposal at homes. In order for you to reach all of these crucial pages, the Request, a Pickup Pricing page, was created especially for waste companies.
Cross-browser compatibility and W3C Validated Codes that are completely customizable and simple to change were both taken into consideration when the theme was being developed. It comes with copious literature that is thoughtfully annotated all throughout the theme.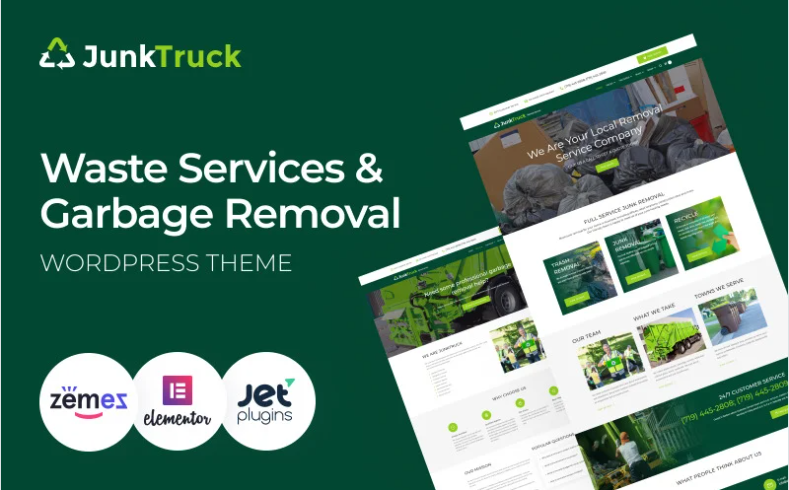 Key Features
A Mailchimp interface has been put in place.
It provides support for Megamenus.
Contains three home variants.
There are a total of 19 internal sections.
With the online designer, personalize your live website.
Supports SVG icon formats.
Pricing
It is priced at $29. It offers many features and six months of free support.
VW Cleaning Services Pro
You can create an outstanding junk removal services website with the assistance of this incredibly useful WordPress theme. As a result, the theme has a really lovely layout. This WordPress theme has features that let you highlight all of the finest products and services offered by your business.
Aside from that, you can quickly change your website to include a wide variety of sophisticated yet high-quality functionality thanks to all the capabilities this theme has to offer. This WordPress theme has the special features and capabilities you need to differentiate your website from the competition. Therefore, this is unquestionably the best tool for keeping one step ahead of the competition. The WordPress theme doesn't require any coding and is highly responsive, always available for translation, cross-browser compatible, and SEO friendly. We have everything under control because of our first-rate customer support, so you don't need to worry if you have a problem or a question.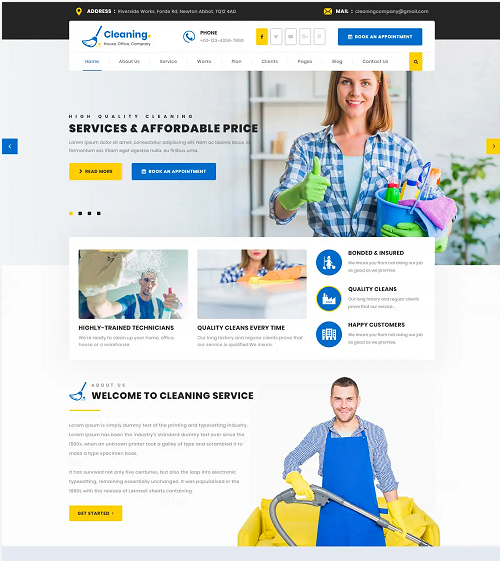 Let's know the key features of this theme.
One-click demo importer.
Logo, title, and tagline customization.
Proper responsive design.
Advanced color palettes and choices.
100+ font family options.
SEO friendly.
Global color option.
Price
This theme is priced at 40$. And lifetime customer support service.
Specular Theme
Specular is a WordPress theme that can be used for junk removal companies. This theme provides pre-built websites that you can publish online right away, as well as home variations or demos. Thanks to more than 20+ carefully made demo sites, your site will appear amazing. Without requiring coding knowledge, the theme offers a template for creating websites for various purposes, including church presentations, creative photography portfolios, eatery reviews, and more.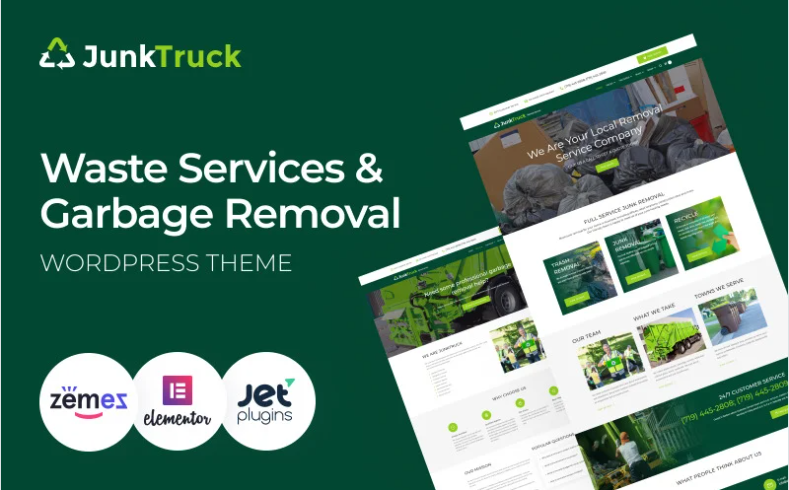 Lucrative Features of this Theme
You have access to devoted assistance around the clock.
Over 30 distinct portfolio layouts are available.
Building a unique code-free slider from start.
Capable of working with the WooCommerce extension.
With just one click, demo info is accessible.
A sidebar with links to other pages.
Price
This is priced at 59$ and has a rating over 4.4
Junk Removal Theme
One of the finest WordPress themes for junk removal is Junk Removal. Local junk removal services can use it to help their customers more effectively. Theme specialists examine the template's quality. Content is introduced based on SEO principles.
The easiest installation, popup manager, team member page, testimonial section, timeline, and other features of a design are its most amazing qualities. Because it is SEO-friendly and accessible through all types of browsers, you will be able to place your website at the top of Google searches. It can be utilized for waste disposal, trash administration, home office cleaning, recycling, cleaning contract companies, and more.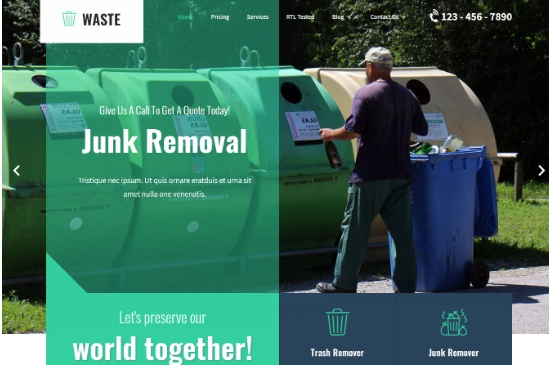 Best features of this theme
Managing waste Websites like waste management, garbage, and associated websites are best designed using a WordPress theme.
Although it is a versatile theme, anyone can use it to create any kind of website. You can create a classy website for any business by making a few simple changes.
As uncomplicated and straightforward as its most recent design, it is. It is simple and effective to use, even for new people.
There is thorough documentation included with the waste management motif. Each section's preparation and operation are included. so that even for those who are not specialists, designing a website is much simpler.
Simple to use and become familiar with the trash management topic.
If installing the theme proves to be difficult for you, free implementation will be offered.
One year after the trash management WordPress theme was purchased, support will be offered.
You can depict the interior header interestingly. It can be presented in a mixture with a banner, video, slider, map, or any other component. It'll be more alluring.
Price
This beautiful theme is priced at only 39$.
Moppers Theme
With the outstanding Moppers WordPress theme for junk removal businesses, you can build a beautiful and useful website in a matter of minutes. You can get started right away because it is easy to set up and set up. WordPress Bakery Page Builder makes website customization simple. The theme has been created with optimal performance in mind and is SEO-friendly. The demo edition can be installed with just one click. It is responsive and simple to use, making it very straightforward to use on any device.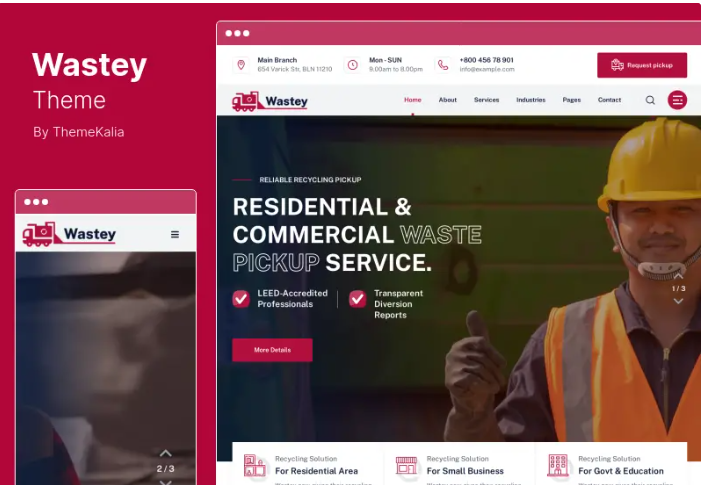 What benefits will you get?
Maintaining compliance with GDPR regulation.
This was created using a cross-platform and cross-browser strategy.
making a contemporary main page design.
You can use a One-Click Demo Importer.
Colors can be altered with ease.
Google online fonts are available.
Price
This excellent mopper website theme you can own by giving only 49$
Wastii Theme
Waste management, trash and garbage collection, environmental protection, dumpster rentals, gardening, and recycling-related websites can all use the premium WordPress theme Wastii. The About Us, Services, Project, Contact, call to Action buttons and Links sections can be created instantly in the admin panel, among its many other features. You can quickly modify the theme using the Elementor website builder. You can improve any website's responsiveness using Wastii's robust management panel. WooCommerce is also accessible for creating online cleaning shops. And make sure that your junk removal business has a very strong online presence.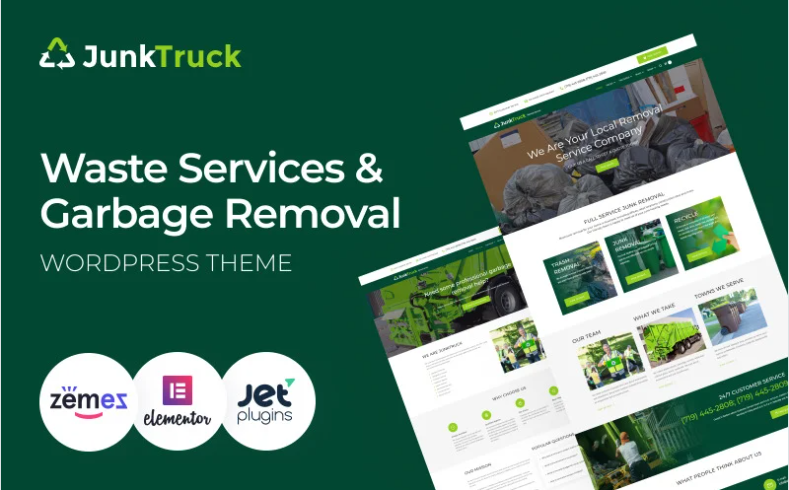 Best features of wastii theme
A simple method that only requires a few clicks to transfer demos
There is a MailChimp integration accessible.
There are Google Fonts and Free Fonts readily accessible.
A large selection of hues to choose from
There are more than 6 ready demos accessible.
3+ different header styles are included in this compilation.
Price
The price is $59.The Wastii theme is ideal for developers and newcomers to WordPress. The price is $59.
Wastey Theme
Any business searching for a sleek and stylish website should consider Wastey. It is appropriate for eco protection (recycle friendly), junk removal, demolition, and waste management sectors. Additionally, a website is devoted to landscapers and gardeners using solar energy who provide services for waste pickup, trash disposal, or waste gathering. For your WordPress website, Wastey allows you to design international layouts. You can easily convert any language into your WordPress website using WPML.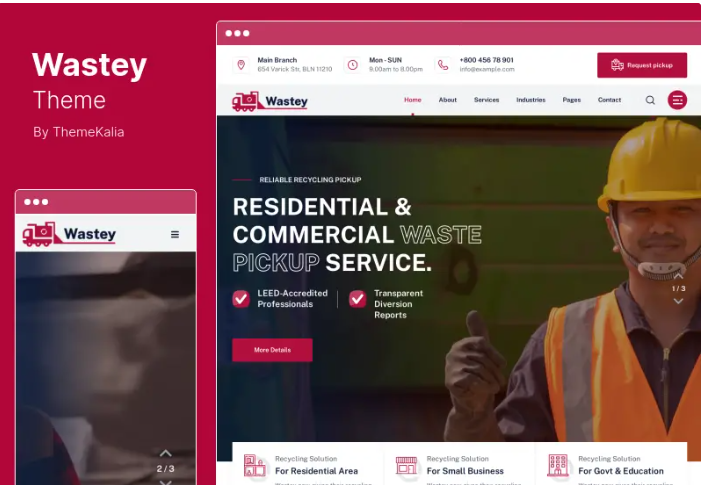 Features of wastey theme
Compatible with Contact Form 7
Compatibility with kid-themed content
A useful framework built on strong ideas
An interface that is cross-browser interoperable
The literature is in-depth.
Installation only requires a single keystroke.
Price
For as long as you own the theme, which costs $59, upgrades are free.
JunkTruck – Waste Services & Garbage Removal WordPress Theme
The JunkTruck WordPress theme for garbage collection offers a variety of features that can be used to build a website for a junk removal service that provides cleaning, home cleaning, structural repair, removal service, demolition, etc. services. You can use JunkTruck's array of pre-made demo layouts, interior pages for your business that showcase your offerings, and a variety of other features to build a complete website to advertise your offerings and attract clients.
A well-liked and useful page builder is used by this theme. You do not require specialized knowledge or abilities to deal with the subject. You can easily set up and operate your website in a matter of minutes by importing demo versions with a single click. By previewing changes in real time, you can also add new pages and modify every element of your website's design. Your website will stick out from the competition because of the JunkTruck, which will also aid in converting site visitors into paying customers. Beginners will be given clear directions on how to use the garbage removal WordPress theme.
Additionally, users will have access to all upcoming theme changes. Additionally, you will have access to a support section where you can ask inquiries about the subject and receive responses.
You can build a fully-fledged SEO-optimized website that will help you increase your customer base and steadily grow your company by choosing the garbage removal WordPress theme. Avoid wasting time by studying the template and building your website to better claim your niche in this expanding market!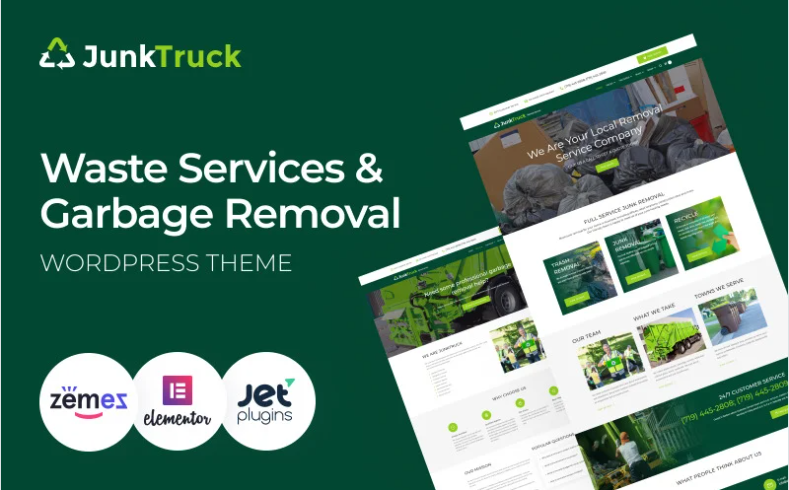 Best Features
Seo friendly
WPML- ready
Well documented
24/7 super-fast support
Top quality service
Recycle Theme
Any company that cares about the environment should use the eco-friendly and adaptable WordPress theme Recycle for its website. Without touching any code, you can quickly alter the appearance of your website thanks to the design's simple page generator. Recycle is a robust and eye-catching WordPress theme that will make it simple for you to start an eco-friendly company. With its simple website builder, quick load speeds, and one-click demo import option into your hosting account without the need for any coding at all. This means there won't be any more trouble over code while attempting to avoid breaking anything else. There is no bloat and you can have more than 25 custom widgets right away that are all fully implemented. The Recycle WordPress Theme is a complete answer that will help your business expand while also making it more environmentally friendly. This theme has the features companies require, including a widget for working hours and a custom post type for team members. Not to mention the responsive video lightbox widget, which makes sharing movies simple as pie without taking up too much room.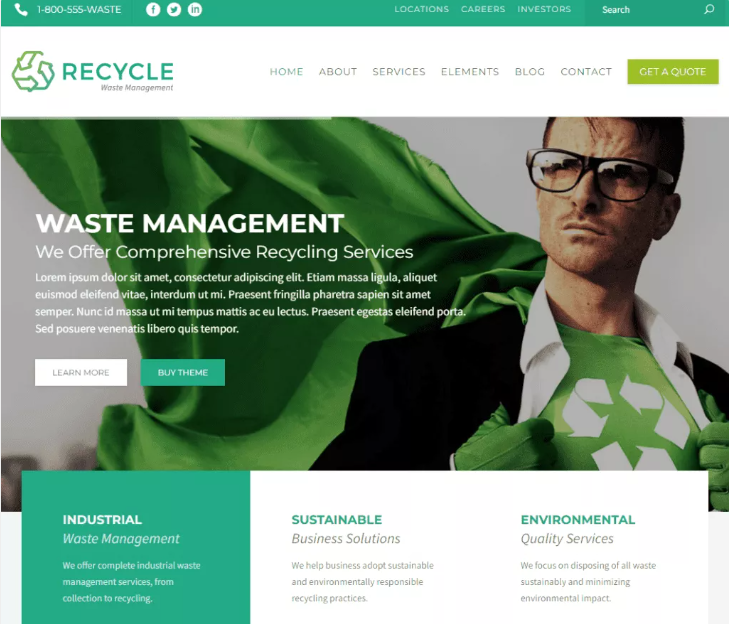 The features
Visual page builder
One-click demo import
Powerful option
Fully responsive
Revolution slider
Creative solutions
8 font icon packs
Translation ready
Packed with widgets
Fast and friendly support
Price
This awesome theme can be yours, just pay 59$
Conclusion
Having a strong online presence for your business will give your devoted customers the easiest way to remain in touch and visit your website for more details and inquiries. These fantastic junk-removal WordPress themes are an effective tool for achieving your business objectives as effectively as possible while concurrently boosting traffic and conversion rates to your website. So what are you waiting for? Choose the theme that suits you the best and starts growing your business to the next level.