Are you ready to get your junk removal business on top? Then you need the right marketing strategies to make it happen. In this article, we'll cover the best tips for scaling up local businesses and dominating Google Search! It doesn't matter if you've already started or are just about to launch—these ideas will help boost your profits so much that you won't know what to do with all those extra hauls! So don't wait any longer; let's dive in and start achieving big things now.
Imagine transforming your junk removal business from a reliable source of income to an enterprise that reaches unprecedented levels of success. With its attractive margins and low overhead costs, operating this type of local service company can be incredibly lucrative and what better way to reap the rewards than by dominating your region? In less than one year, you could make your brand known in the area while also booking more jobs than any other provider within city limits. Take advantage of the potential that awaits a thriving business! So let's begin.
Analyze Your Audience
Achieving success as a junk removal company requires understanding your target customer. By defining who you want to reach, you can develop marketing strategies that will build your customer base and increase your profits.
To get started, research which demographics respond best on webpages like yours or other advertising platforms; for instance, homeowners or building managers may be ideal targets for a junk removal company. Knowing who resonates with the services offered should then guide all further decisions related to this venture's marketing strategy! To better understand your target audience and utilize this knowledge to maximize the effectiveness of your marketing strategies, here are a few tips: 
First, research their demographics and get an understanding of their needs. Then segment them into related groups. This will help you create tailored marketing solutions that cater to each group. Finally, remember to periodically revise your plans as new insights arise! Closely looking at how customers find you through sources such as referring websites or Google search queries can also be beneficial in achieving success with these efforts.
Observe Competition
Knowing your competition is key for any junk removal company to stay ahead. To gain a competitive advantage, you must research what other companies are doing and how they're acquiring customers. Gather information on their marketing strategies, customer reviews, price points & websites to form an effective comparative analysis of competitors. This data can be used to showcase why your business excels by improving upon existing Unique Selling Points. The effort put into researching competitors will pay off immensely!
Set yourself apart from the competition by uncovering what precisely makes your junk removal service exceptional. Investigate why customers are so content with choosing you – it's a query that will pay off!
Invest in a Good Website
An attractive, well-made website is essential for any junk removal business; it allows you to remain connected with potential customers even when your physical location's doors are closed. In this digital age, having a web presence is critical for any business if you hope to reach and sway target customers.
To design an effective site that drives conversions in your junk removal company: feature what makes you unique – from hazardous waste management services or customer satisfaction guarantees; strategically place active calls-to-action throughout your page for instance, include visible contact numbers across headers so that your customer can reach you easily, and also optimize your website for mobile users so they can easily access and navigate through your content on their devices! Seamlessly offer online booking for the utmost convenience of your potential customers, allowing them to easily book a free estimate or schedule an appointment.
Furthermore, showcase quality images and videos of your uniformed personnel to evoke trust from viewers. Get your online presence off to a strong start with the help of experienced web designers. They will ensure that your website looks polished and professional, accurately reflecting the standard you set for yourself as a junk removal business owner. Don't settle for less than excellence when constructing this foundation of digital marketing – get it done right from the very beginning! Which will help you in the very long run.
Do Local SEO
If your junk removal business depends on local opportunities, then it's essential to include local SEO in your overall search engine optimization plan. Through this approach, you can ensure that more of your target audience will discover and utilize the services provided by your junk removal company.
Local searches like "junk disposal near me" or "junk pickup service in New York" are always answered with results optimized for location-based queries – which means even better visibility and advertisement for businesses like yours! It's essential for businesses to guarantee that their website can be easily seen on Google, so potential customers can access information regarding the company and discover its brand.
Make sure you claim your Google Business Listing and optimize it, adding all important details about your business – this is critical in helping customers learn more about you. Put simply: before someone decides what they want to buy, they'll often look up a business on Google – make sure yours stands out!
Create a Google Business Profile and local business listings to acquire more leads for your junk removal services. Make sure that all information on the page is up-to-date, complete, and optimized so that potential customers can easily find it! Implementing local search optimization techniques can give you an advantage in search engine rankings and propel highly relevant visitors to your site.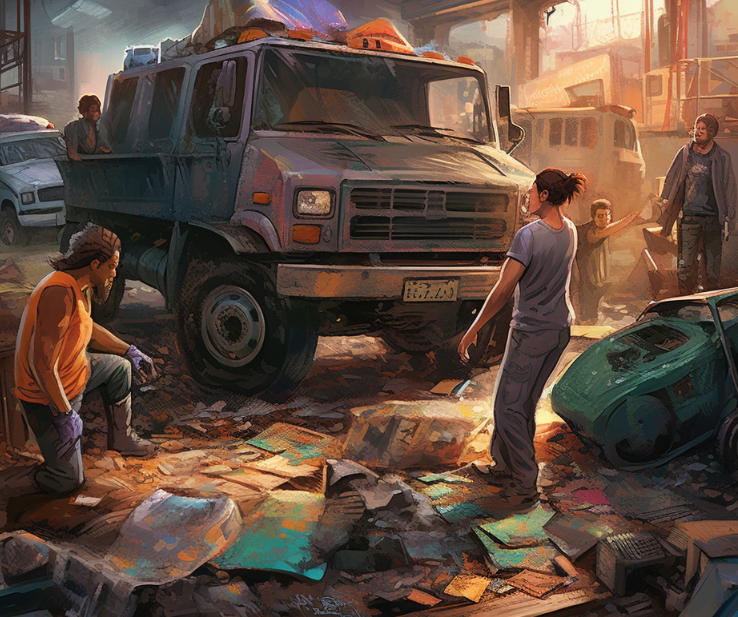 Run Google Ads
Once you have optimized your SEO efforts, investing in online ads should be the next step. Utilize Google Ads to direct prospects back to your junk removal landing page and engage them into doing business with you!
It is essential to identify the keywords that those within your target audience are using when searching for nearby junk removal services. Additionally, ensure that these ads can be seen in specific geographic locations such as neighborhoods and cities. Furthermore, enhance the visibility of these advertisements by optimizing them for mobile viewing and utilizing ad extensions which will also boost click-through rates.
To help you generate thousands of leads for your junk removal business, here are some Google Ads configuration strategies to consider:
First and foremost, ensure that your Google Analytics account is accurately connected with the corresponding Google Ads profile so all conversion data will be precise.
Secondly, put in place negative keywords from the get-go. There may be some areas where "trash pick up" and "junk removal" have similar connotations. However, others might interpret it as an inquiry about their local waste collection services – hence why you want to avoid investing money in these particular clicks!
Finally, try employing a target CPA (Cost per acquisition) bid strategy which could potentially yield more profitable returns on investment in the long run.
Do not forget to monitor to ensure you get the best returns on your campaign, be sure to monitor and optimize it at least once every week. You don't want to end up paying $15/click for irrelevant clicks – like "local trash pick up". Splitting your junk removal services into different ad groups can help reduce costs and improve effectiveness.
If you're looking to expand your junk removal business, there's no better place than Facebook. The world's largest social network can help you easily target potential customers by location, demographics, interests, and behavior.
To make sure that people take notice of your ads on Facebook opt for visually engaging photos or videos as opposed to plain text-based advertisements. Don't forget to include a clear call-to-action so viewers know exactly how they should interact with the ad! Finally, use retargeting to re engage those who have already interacted with your brand before – this will undoubtedly boost conversion rates significantly!
Social platforms are valuable tools to expand your customer base and cultivate loyalty. When selecting the best platforms, note that Facebook is great for joining local groups and even forming one of your own to construct a sense of community around your business.
Additionally, Instagram offers the ability to share before-and-after visuals from successful jobs in junk removal – with hashtags and location tags capable of targeting audiences specific to you! And last but not least, If you want to connect with other local junk removal businesses and hire suitable personnel, sign up for LinkedIn. So this can be a much more suitable option for your advertising needs.
Get a FREE website Audit!
Try Email Marketing
Keep in touch with clients and potential customers while also keeping them informed about your junk removal company through email marketing. You may advertise sales, instruct readers, conduct polls, and enhance your reputation by email. To reach the correct audience, create a tailored list. Make use of calls to action that are engaging and clear. Separate your customer list depending on their demographics, recent purchases, and other information.
Deliver consistent, helpful, and tailored content. Having a location-specific promotion is another email marketing concept.
Assume, for instance, that your email list is divided up according to location. In such a situation, you can send an email to every resident of a particular town with an offer of 15% off any half truckload or more on a specific day. Your vehicles can then make the most of their appointment windows, which saves you a ton of money on fuel and labor costs.
Try Providing flyers
A crucial component of local service marketing continues to be the inexpensive paper flyer. Paper flyers distributed liberally among your target neighbors can produce an ROI that Google AdWords could only hope to match.
This flyer assists junk removal companies in spreading the word about their offerings, advancing them, increasing sales, and holding the attention of their intended consumers. Increase client satisfaction, foster their devotion to you, reactivate dormant consumers while also luring in new ones, and obtain valuable insights into audience behavior—all while edging out competitors in terms of brand identity and position.
Use Yard Sign
Yard signs are ideal for reaching nearby audiences. Your junk removal brand will be seen by people, whether they are passing by or just walking about the neighborhood. These are great ways to reach out to older customers who may not use web searches to find local services. These are inexpensive, quick to set up, and have low upkeep. This also helps to Promote brand awareness effectively in predetermined, strategic areas
Door hangers can be your option
Door-hanger advertising is another method for focusing your physical marketing efforts, as it enables you to target specific demographics and neighborhoods. Make sure door hangers are visually appealing, easy to read, and attention-grabbing by using professionally designed ones. Promote a unique deal to boost response rates.
Take Online Reviews
We all know People rely more on online reviews than on referrals in today's online age. The majority of searchers study other customers' reviews before making purchases or hiring services. Consequently, we can conclude that a thorough assessment is crucial for enhancing the reputation of any company.
Good reviews instantly boost the trustworthiness of your junk removal company. Thus, if you don't already have any reviews, it's time to do so. Along with getting reviews, it's similarly crucial to reply to every single one. Responding to reviews, whether they are favorable or negative, makes a good impression on the customers you are trying to reach. Updates are necessary periodically when responding to evaluations.
As a result, you can use an online review monitoring tool for this. It keeps you informed about newly published reviews, which eventually help you make more sales and increase your company's revenue.
Conclusion
From the above discussion, we can get an idea of how we can start proper advertising for your junk removal company. There are several steps to follow and if you can effectively follow those surely you will grow. The ROI will be much better and it will show in your balance sheet. Making the most of junk disposal company marketing strategies is crucial if you want to expand your business.
Concentrate on the crucial points stated, such as knowing your target market and rivals, developing a lead-generation website, obtaining reviews, enhancing your Google Business Listing, and networking. You now have the junk removal marketing strategies you need to enhance your reputation, boost sales, and scale your company to outperform rivals and rule your neighborhood.
Get a FREE website Audit!